In the period from June 26, 2017 to July 1, 2017 at Dong A University of Technology, address Tran Huu Duc – Nam Tu Liem – Ha Noi has taken place an international training course on business skills training Social and entrepreneurial startups by Norwegian International Training Institute – Fil. Dr. Jan-U. The Sandal Institute, a leading social entrepreneurship training school, IBS, Norway, the Omega Institute of Science and Technology and the East Asian University. The lecturer is GS. TS, Jan Sandal, director of Fil. Dr. Jan-U. Sandal – Norway, with 30 years experience of research, transfer and training to practitioners in Norway and around the world in this field. The course lasts for 6 days with three corresponding modules: Social Entrepreneurship Course (SE-03-A); Course on Service Vision Management (SV-03-A) and Innovation Management course (IM-03-A). Students who successfully complete 3 courses with teamwork and oral quizzes for all three modules are awarded the Diploma and the International Diploma of the College. Social Entrepreneur School IBS.
This course provides an extensive knowledge of business processes for active social enterprises and start-up businesses. Management of the social reform process needs specific knowledge of the challenges that each individual or organization faces in the daily business operations of business operations and the process of capital development that characterizes. post-industrial society. This course demonstrates that innovation and entrepreneurial spirit is the power of social change. Students develop their own strategies for their projects. The course focuses on developing management skills that promote innovation and creative management. The course has attracted a large number of students including students, faculty, business owners, professionals and people interested in participating.
On the 1/7/2017 closing ceremony, students received an International Diploma, certificates for three modules attended, and two Professors' Jan. Sandal on Social Enterprise – Practices and Trends in the Development of the World, and GS. Dinh Van Nha on the 4.0 Industrial Revolution for Vietnam and the world – great opportunities and challenges for the Global.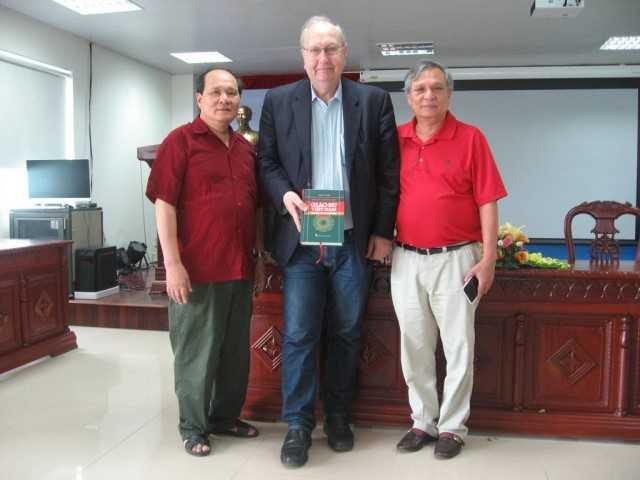 The speech is also the mark of the GS 54th International Conference. Jan Sandal on Social Enterprises. Norwegian International Course – Omega Institute of Science and Training ended beautifully and impressively, the professors awarded medals to each other. The course after the completion of the course has also received very positive feedback from learners, partners and experts, with many ideas and aspirations such courses will be held more often to counter The new, more profound and useful knowledge to more practitioners.