East Asia University of Technology have had a meeting with Fox Education and Consulatncy on 2nd March 2019.
Promoting international cooperation, educational consultancy is a top priority of East Asia University of Technology in the field of international training. In the meeting, the participants include Dr. Dinh Van Thanh – Vice Rector, Dean of Pharmacy – Nursing Department and representatives of International Cooperation Training Institute.
For Fox Education Consulting Group, the participants include Ms. Jo Fox – Group Director, Ms. Ngo Thu Huong – Senior Commercial Director of the Australian Government Trade & Investment Agency. This is the second time, Ms. Jo Fox has visited Vietnam in good faith in seeking cooperative partners on nursing staff, taking care of the elderly.
Fox Education Consulting Group is a prestigious corporation with many years of experience in education consultancy in Australia. East Asia University of Technology has the strength of "enterprise-oriented University", always gives priority to practical training. The University has committed to train students in practice direction.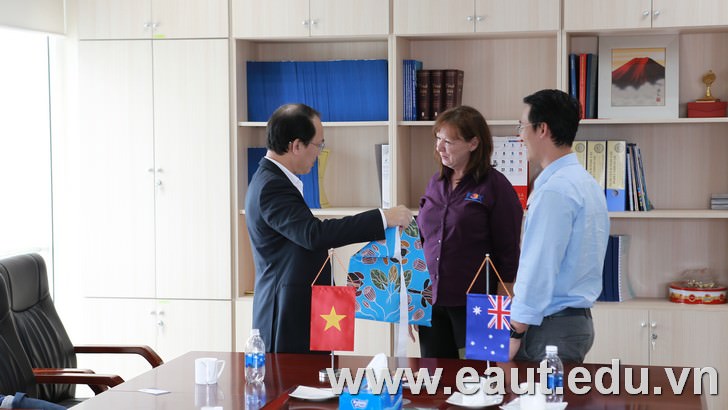 The both sides exchanged opportunities for cooperation in international education and training and education consultancy. In particular, focusing on seeking direction and cooperation in the areas: nursing training, care for the elderly and tourism. Specifically:
– The two sides will work together to exchange study programs to study and plan to train college and university degree in nursing.
– The target students are students who graduated from high school with the need to study nursing and English proficiency to communicate.
– Short-term learning pathway: students study 06 months of nursing in Vietnam, and improve their foreign language skills – English at IELTS reaches 5.5.
At the end of the meeting, the both sides have expected this cooperation event to promote the opening of exchange opportunities for Vietnamese students to study, practice and work in Australia in particular, as well as the international environment in general.
—————
East Asia University of Technology
Polyco Group Building, Tran Huu Duc Street, Nam Tu Liem District, Hanoi.
Hotline: 024 6262 7797
Email: tuyensinh@eaut.edu.vn